Pictures of: Merzouga, Morocco
Hotels and other Accommodation
World Nomads
The Travel Insurance with the largest coverage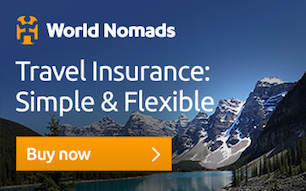 ---
Other tourist destinations in:

Morocco
---
Merzouga
Merzouga is a small village Berbére in the Sahara desert in Morocco, located about 35 km from Rissani, 40 km from Erfoud, and about 20 km away from the border with Algeria.
The village of Merzouga is known for being situated next to Erg Chebbi, Morocco's largest dune complex, a tourist attraction for the various activities in the area: camel excursions, 4x4 circuits, bivouacs and dune camps, therapeutic sand baths, motorcycle trips 4.
The village is divided into 3 parts: the dunes zone, the village center, and the new part, north of the river and before reaching the large door of the village.
The road to Merzouga is tar from Rissani, being the excellent road and easy access for all type of vehicles.
---
Tourism
First, the traveler traverses an empty flat area. After some time you get to the giant sand dunes, which are the main tourist attraction. Most people think of the desert as only dunes - red sand, yellow and orange - but in fact, there is much more, including the so-called "black desert".
The villages of the ex-nomadic peoples are located next to the dunes. The people settled down due to a combination of factors: closing the old trade routes to Algeria during the French occupation, reducing grazing areas for livestock as the drier climate as well as employment opportunities offered by tourism .
---
Gastronomy
The specialties of the city are the spits on sale in (literally) everywhere or with the "Metchui" - lamb roasted in the oven, so slowly that, when we taste it, we feel that the meat is melting in our mouth.
---
Weather
Its climate is desert, very sunny, with few rains. The daytime temperature can vary between 20 ° C and 25 ° C (25 ° -30 ° C between April and October), and at night between 10 ° C and 0 ° C (-5 ° C end between December and February is possible).
The rainy season is from November to April, falling lightly and especially in the coastal zone and north of the Atlas chain.
The climate is temperate by the coast.
---
Other world tourist destinations
---
City destinations and weekend getaways
Why to book with ROTAS TURISTICAS
The best prices
Our partnerships with the world´s largest operators offer research on the best market prices.
More options
At Rotas Turisticos you can book the hotel, buy the air ticket, book the transfer from the airport to the hotel and vice versa, book the local excursions, rent the car, take travel insurance and consult the places to visit and where to go.
Holiday Tips & Destinations
Hundreds of holiday destinations with all the options that allow you to easily choose the destination that best suits your dream vacation.
---
---