Pictures of: Ocho Rios, Jamaica
Hotels and other Accommodation
World Nomads
The Travel Insurance with the largest coverage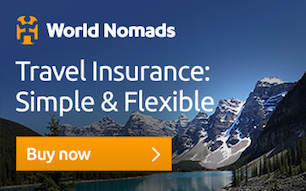 ---
Other tourist destinations in:

Jamaica
---
Ocho Rios
Ocho Rios (Spanish for "Eight Rivers") is a town in the parish of Saint Ann on the northern coast of Jamaica. Outside the city, travelers and residents can visit Columbus Park, where Christopher Columbus allegedly first came to earth; and see the Spanish maritime artifacts and colonial buildings.

It is a port of call for cruise ships as well as cargo ships that carry sugar, limestone and, in the past, "bauxite".
Diving and other water sports are offered nearby the city.
---
Tourism
From exquisite luxury plazas, filled with world-class brands, to traditional stalls and stores, where one can uncover all kinds of charming mementos, Ocho Rios is a shopper's dream come true.

For those of you who haven't heard, Ocho Rios has everything your heart desires. From rare and flawless gems, to high art and impressive beach clubs; get some all right, right here.

If you're looking to explore true beauty and Jamaican culture, don't miss out on Ocho Rios. Known for its arts, crafts and shopping, take something from this part of the island home with you.

Make your priority shopping in Ocho Rios. From nifty bargains, to stunning souvenirs and real island gems, it's all right here.

Ocho Rios is known for its tropical climate, with its wet season from May to November, and a dry season from December to April. But whatever the season, summer clothes and a few loose sweaters should keep you comfortable.
 
In Ocho Rivers, we're known for our world-class resorts, where you'll not only feel safe, satisfied and delighted, but taken care of, the true Jamaican way.
 
Ocho Rios is probably best known for its use in Dr No, the very first James Bond film, released in 1962.
 
For a taste of traditional, spicy, smoked jerk meats, you can't miss out on the Ocho Rios Jerk center - known to occasionally turn herbivores into carnivores.
 
If you're on the island with a view to propose to that special someone, then you'll be able to find a wide selection of beautiful jewels in Ocho Rios.
---
Gastronomy
The fine cuisine of this beautiful destination can be summed up in one word "spice", and is based on delicious local produce, which in perfect harmony can seduce the most demanding palate.

Due to its excellent coastal location, this beautiful destination allows its visitors to enjoy a variety of traditional seafood dishes, including cod, considered to be one of the main national products, and usually prepared with vegetables, coconut milk, hide. and chili; It is often accompanied by a delicious round bread called "Bammy" made from cassava. Other typical ingredients of the region are callaloo, a spinach-like vegetable; cho-cho, local name for pumpkins; and Ackee or Aki, an African fruit, which has the appearance of scrambled eggs, cooked with cod and other fish, salad and rice. Another delicious and very traditional dish is the famous "Jerk" with pork or dried chicken, marinated with peppers. Other delicious specialties you can enjoy are meat or vegetable burgers and popular Rastafari cuisine, which includes a variety of dishes such as rice and beans, among others.

For exquisite cuisine, this destination offers the Ocho Rios Seafood Festival, an annual festival featuring delicious traditional dishes made with grilled fish, lobster and crab, among others. Also, if you want to enjoy traditional Jamaican dishes, at Ocho Rios you will also find a variety of restaurants.
---
Weather
The climate of Ocho Rios is tropical. This means temperatures are warm all year round, with only minor fluctuations and two distinct seasons - wet and dry. The average temperature varies only 3 ° C throughout the year - at 26 ° C in January and February to a maximum of 29 ° C around August. Ocho Rios is inside the Atlantic hurricane belt and is at risk between June and November.

The rainy season varies in length: it starts in late May or early June and runs until late November or early December. It is the hottest time of the year; most days reach 31ºC and nights stay around 26 ° C. Statistically, October has the highest monthly rainfall with 171mm, although this varies from year to year. The intensity of the rainy season also varies, largely depending on nearby hurricane activity.
---
Other world tourist destinations
---
City destinations and weekend getaways
Why to book with ROTAS TURISTICAS
The best prices
Our partnerships with the world´s largest operators offer research on the best market prices.
More options
At Rotas Turisticos you can book the hotel, buy the air ticket, book the transfer from the airport to the hotel and vice versa, book the local excursions, rent the car, take travel insurance and consult the places to visit and where to go.
Holiday Tips & Destinations
Hundreds of holiday destinations with all the options that allow you to easily choose the destination that best suits your dream vacation.
---
---